Elisabeth University of Music is located in central Hiroshima, adjacent to the "Memorial Cathedral for World Peace", a Catholic Church in the Nobori-cho area. From Elisabeth it is a short walk to the business district and main railway station. Another campus in East Hiroshima is an hour away and provides additional facilities for physical education, intensive rehearsal by performing organizations, and studentrecreation.
With a population of over one million, Hiroshima is the leading city of western Honshu Besides its role in business and commerce, it also serves as an educational and cultural center. A national university and some thirty other colleges and universities compose a rich cultural milieu, in which Elisabeth is unique as the only music school west of Osaka offering programs at the graduate level.
Facilities and equipment include the Cecilia Concert Hall seating 726, the Xavier Recital Hall seating 190, the Ensemble Room, and some 127 rooms for teaching, research and practice. Musical instruments include 6 pipe organs, 79 upright pianos, 80 grand pianos, 4 harpsichords and some 220 string, wind and percussion instruments. There are also traditional Japanese instruments (Koto, Shamisen), folk drums, instruments for Early Music ensemble, an Orff Instrumentarium, as well as a studio for computer and electronic music. Audio-visual equipment is provided in all classrooms and faculty studios; and listening and viewing facilities are available for individual use in the library. Students have access to personal computers in the library and in a separate computer room.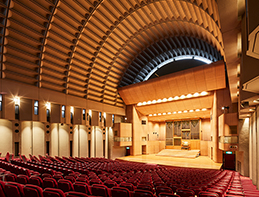 Cecilia Concert Hall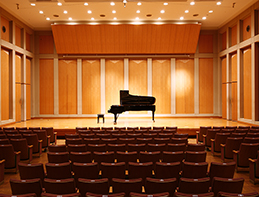 Xavier Recital Hall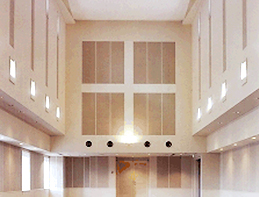 Ensemble Room
The University Library is one of the finest music collections in East Asia. Besides books of general interest in Japanese (12,700) and foreign languages (7,800), holdings include 11,800 music books in Japanese, 18,000 music books in foreign languages (mostly English), 501 periodicals in Japanese, 629 periodicals from abroad, 57,000 scores, 17,700 audio and video recordings, along with computer database and internet resources.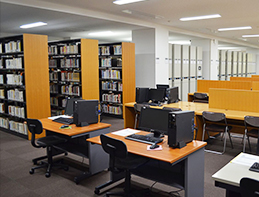 Library
Consultation and assistance on housing, medical care and religious needs are provided through the Student Life Center and the Campus Ministry. The Women's Residence Hall is a five-minute walk from the main campus; it has 104 private rooms, meal service, and practice facilities. At a walking distance of less than 15 minutes there is the Hiroshima City International House, with 20 family rooms and 80 single rooms at very economical rates.